YANHUA Tech company has newly released an OBD II Adapter for CKM100 car key master and Digimaster III/Digimaster 3 which will program most Japanese & Korean, Chinese cars, EU and American car keys directly via OBDII Plug.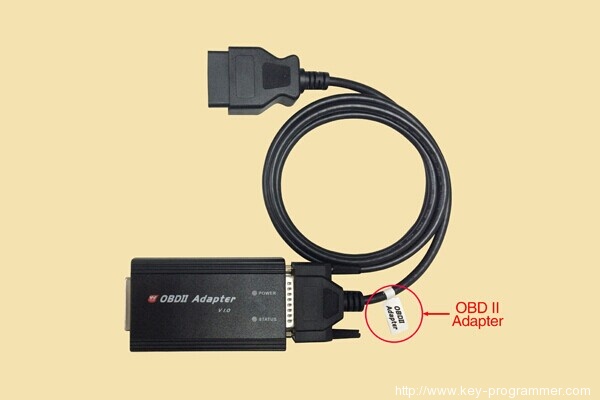 Instruction:
Product picture:
OBD II applicable vehicle list:
Special function: Support key programming via OBD II plug, applicable for most Japanese & Korean cars, Chinese cars, EU cars and American cars.
Japanese & Korean cars:
1.Honda 2.Toyota 3.Subaru 4.Nissan 5.Lexus 6.Mitsubishi 7.KIA 8.Mazda
9.Hyundai etc.
Chinese cars:
1. Jinbei 2.LIFAN 3.LANDWIND 4.JAC 5.Geely 6.FAW BESTURN 7.Dongfeng-Nissan
8.SMA 9.Shanghai ENGLON 10.Dongfeng Liuzhou Motor 11.Changfeng LEOPAARD 12.Tianjin-FAW 13.Hongqi Shengshi 14.GreatWALL 15.LOTUS 16.Hainan-Mazda 17.Chery etc.
Other cars:
1. Renault 2.Peugeot 3.Citroen 4.FIAT 5.Cadillac 6.GM 7.Ford etc.
Notice:
1.OBD II adapter should be used with CKM100 or DIGIMASTER III
2. Connect to internet for upgrade.
Modules price list (tokens):
Modules Price List( tokens)
Module ID
Description
Function
Buy-out Price(tokens)
07CB
Acura/Honda IMMO
IMMO system, intelligent card system, 9th generation key system, Button-push intelligent card, 3-pins diagnosis plug
10
07FE
Nissan IMMO
IMMO system, intelligent card system, Nissan MARCH/SUNNY I/TIIDA(2010-), Imported Nissan code calculator
8
0187
Mistubishi IMMO
Lancer-ex, OUTLANDER EX(2004), L200TRITON, OUTLANDER EX, 10th generation intelligent card, ASX intelligent card and remote
8
018B
Subaru
Key type A, Key type C
2
07F3
Mazda
Mazda 2/3/5/NEW CX-7/CX-5/CX-9, ATENZA, Axela, Mazda 6/ Core-wing/8/CX-7
8
07D0
Hyundai/KIA IMMO
Accent, COUPE, ELANTRA, ELANTRA, ELANTRA, New ELANTRA, I30,IX35, Santafe, Santa Fe, Sonata, SONATA NF, Tucson, New Veloster, Verna

10
0275
Toyota/Lexus IMMO
IMMO system, old intelligent card, Crown intelligent card, intelligent card CANBUS, remote system, change panel language
8
07F4
Chery
A1/A3/A5/A6/A13 series, E3, COWIN(A15), FULWIN 2, EASTART(B11)/ (cross), QQ6, QQme, Karry, Tiggo 3, Riich 2, Riich M1/M2/M3/M5/X1/X5
20
Geely
Ziyoujian, Vision, Jinying, FC-2, EMGRAND
SMA
Haijing, Haishang, Haifeng, Haiyue, Marindo, Hysoon
Shanghai ENGLON
IMMO system, remote system
0812
GreatWall
HAVAL, Tengyi, COWRY, PERI, FLORID, Wingle, Cool Bear, C10
25
Changfeng LEOPAARD
LEOPAARD CS6, LEOPAARD CS7
Hainan Mazda
ha/ma 7, New Preema, Family, Happin, S7
PROTON
0199
CHANA
CX20,CX30,CS35,CS75, Benben, HEV, Zhixiang, Alsvin, EADO, RAETON, CM7, CM8, Honor
25
CHANA SUZUKI
Swift, SX4, New Alto, VITARA
Brilliance Auto
H330, V5
Zotye
5008,Z300
0189
BYD
Remote system(F3), intelligent card system
10
Dongfeng-Nissan
IMMO system
Dongfeng Liuzhou Motor
Dongfeng Fengxing – JOYEAR(B11)
LOTUS
IMMO system, remote system
07F8
FAW BESTURN
BESTURN B50
10
Tianjin-FAW
Junpai D60, XIALI N5, XIALI N7, Xenia S80, New Vizi V5, Vizi(MT3 Delphi), Vela(MT3 Delphi)
Honagqi Shengshi
Intelligent card matching
Beijing Auto
E130,E150
07F5
Jinbei
10
JAC
Binyue, Heyue, Tongyue, Refine
LIFAN
IMMO system
LANDWIND
Fashion, Fenghua, X6, X8
HAFEI
IMMO system 1
The interface will arrived in two days
www.obdii365.com