Question before entering:
Will this Toyota G and Toyota H Chip OBD remote key programming device add key for Avalon 2000? Can it do all keys lost?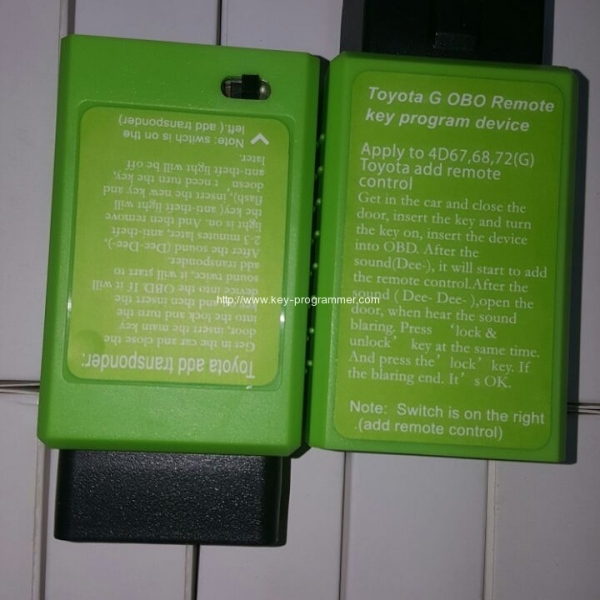 Obd365 engineer solution:
The supported car is determined by car key chip type, not exactly models. The device will add key with 4D67, 68 ,72(G) chip, supports both G and H chip via OBD2 port. Tested great on Camry 2015. No software, laptop or other accessories required. Can only add key, not for all keys lost.
Customer Feedback:
Product worked as advertised. Programmed 2 Toyota Corolla (2014) keys for $100 total. ($for tool, $35 each for 2 keys,$5 to get keys cut at locksmith). This is a 2 step process-Transponder programmer to have the key work with the car's security system and Remote programmer to have the lock/Unlock/Trunk/Emergency for key buttons to work with car. This unit handles both programming tasks. Toyota wanted $350 per key, local locksmith wanted $250 for 2 keys. This device save me much.
How to use Toyota G and H chip OBD remote key programmer?
Add Toyota remote control
Get in the car and close the door, insert the key and turn on the key, insert the device into OBD. After the sound(Dee-), it will start to add the remote control.
After the sound ( Dee- Dee-),open the door, when hear the sound blaring. Press ' lock & unlock' key at the same time. And press the' lock' key. If the blaring ends, It's OK.
Note:  Switch is on the right.(add remote control)
Add Toyota transponder:
Get in the car and close the door, insert the main key into the lock and turn the key on,and then insert the device into the OBD. If it will sound twice, it will start to add transponder.
After the sound (Dee-Dee-), 2-3 minutes later, anti-theft light is on. And then remove the key( anti-theft light will flash), insert the new key and doesn't need turn the key,anti-theft light will be off later.
Note: switch is on the left.( add transponder)