Now new update tool of Xhorse ikeycutter Condor XC-Mini key cutting machine V4.0.1 both SN KM02 and KM03 is released on 16-06-2017.
Condor Mini V4.0.1 Update Feature (2017.06.16):
——————————————
+Add universal key decode function
+Add M2-D function
+Add motor sensor testing function
*Modify probe/cutter detection
*Fix machine may crash error problem
*Fix HU49 key decode error
*Fix HU66 cutting speed issue
*Fix BW6 cutting error
*Fix TBE1 cutting error
Notes:
1.New update for both SN KM02/KM03 machines
2.New function:Main Interface-Key Duplication-Universal Type
3.Universal Type support decode/cutting parts of home & vehicle keys
4.Please keep the whole key clean and conductivity good(ensure without dust/oil)
5.For one side key(thickness of whole key usually 1.5mm or 2.00mm) please add a shim/business card under the key,ensure the whole key thickness should more than 3mm Free Download Condor XC Mini V4.0.1 Update Tool https://mega.nz/#!LghkGQoT!nhs6ucmeVwPj5sov3iI5WK2pVsuTe1PziwASvMbOYtI How to Update Condor XC Mini Key cutting machine online? 1. Connect iKeycutter CONDOR XC-MINI Master to the PC with a USB cable. 2. Turn on the iKeycutter Mini Condor Master. 3. Click "Update online" button to start update. 4. The screen will appear "Updating" prompt. 5. Wait for the update completed.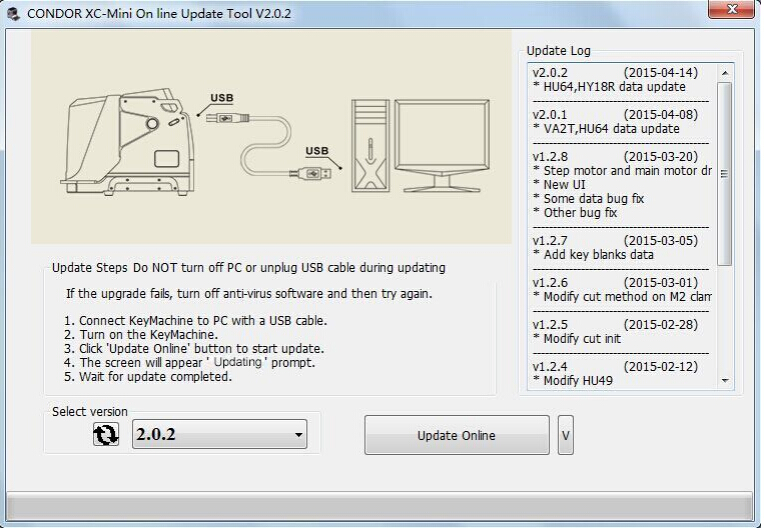 Notes:  A: Do NOT turn off PC or unplug USB cable during updating. B: Data downloading and firmware upgrading may take a while, please be patient. C: If the update fails, turn off anti-virus software and then try again.  www.obdii365.com