OBDSTAR tools (OBDSTAR X300 DP and OBDSTAR X300 Pro3 key master) released new software upgrade IMMO + Cluster Calibration + Pincode Reading + Pincode Free programming via OBD via OBD. The new upgrade adds many functions, i.e key programming VW/Audi NEC 24C64,  newer Ford, BMW FEM/BDC, Peugeot, Citroen, Mercedes cluster calibration etc.
VW/Audi
VW (NEC+24C64) 2014.6-
Audi (NEC+24C64) 2014.6-
Seat (NEC+24C64) 2014.6-
Skoda (NEC+24C64) 2014.6-
Ford
Program key without pin code
New Mondeo/Edge/Taurus/Mustang/F150 2015- models
Egde  2016+
F150 2015
Galaxy 2015+
Mondeo 2015+
Mustang 2015+
Ranger 2016+
Peugeot/Citroen
Cluster calibration
All keys lost pin code reading
Hyundai
47 chip Pin code reading
Mercedes-Benz
Cluster calibration for W205/W222 (blocker needed)
BMW
BMW FEM/BDC Immo key programming
Note: X300 DP/X300 Pro3 full version adds these features for free. Standard version need to pay authorization. 
Pls provide you device serial number to customer service to activate these features.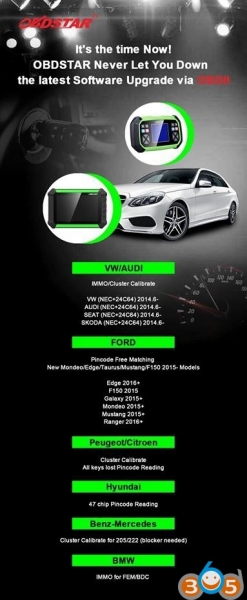 http://www.obdii365.com/wholesale/brand-obdstar/