Cbay/Handy baby 4D/46/46 Hand-held Car Key Copy Key Programmer has updated to PLUS version with red case (price remain the same).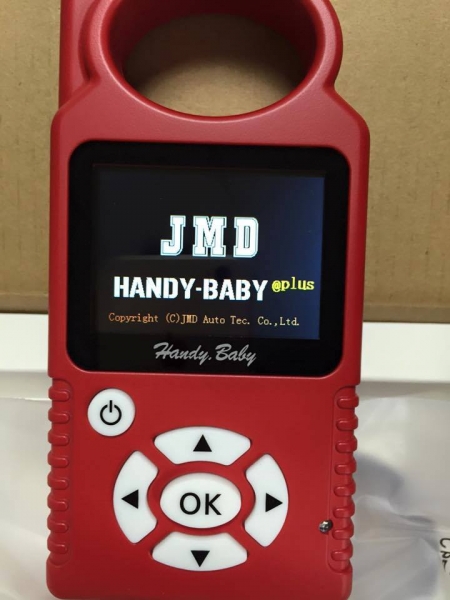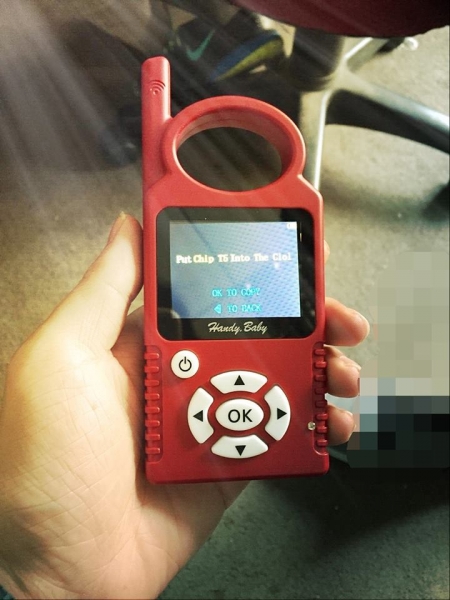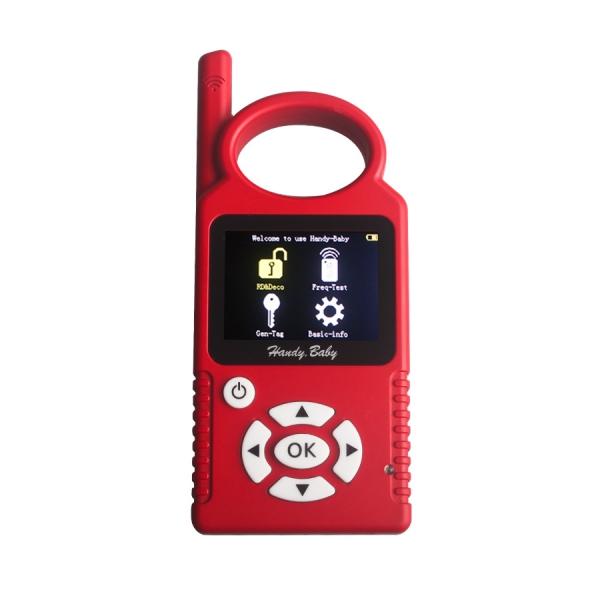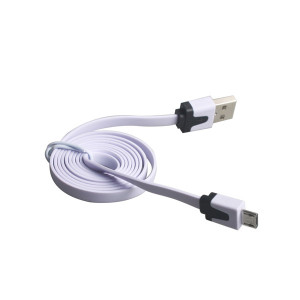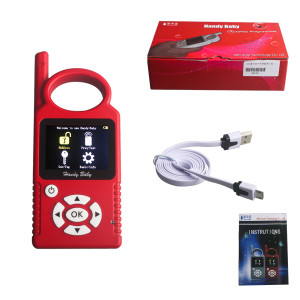 JMD Handy baby key programmer screen display:
Language: English/Chinese
Update Free Online on Offcial Website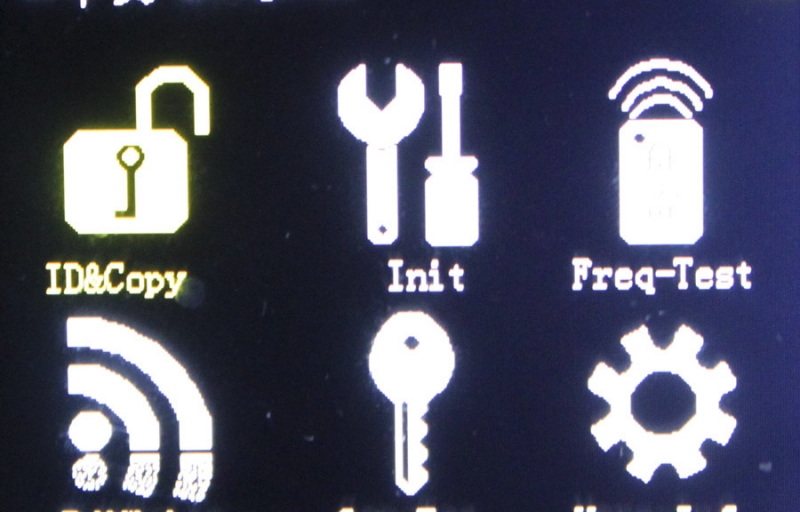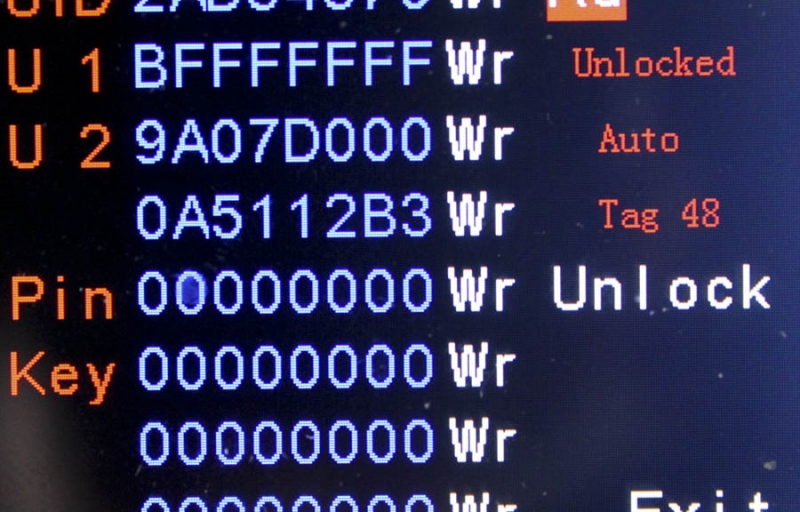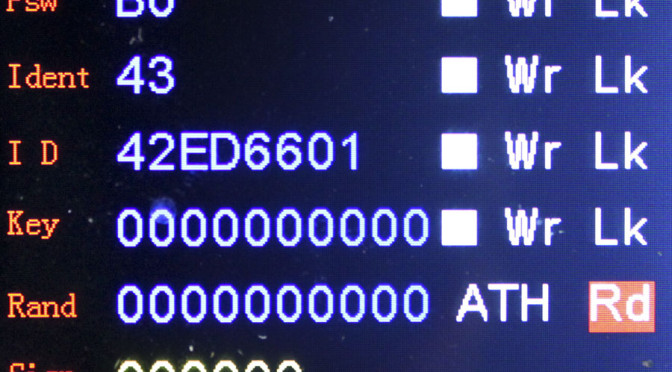 Handy baby Key Copy machine  Recognize and Copy:
Recognize: Recognize chip 13, 40/41/42/44/45, 4C/46/48, 4D61/62/63/67/68/68+/71. Able to tell if 48 chip is from original or deputy factory.
Copy: Copy 46, 4D and a partial of original 48 I.E Buick Excelle, you have to use special GMT46/4D Chips, ID48 chips which can change ID.
Handy baby key copy tested working cars (Updating…)
| | | | | |
| --- | --- | --- | --- | --- |
| Brand | Modle | Years | Chip | Remarks |
| BMW | 730 | 2002 | 46 | Copy successfully |
| Buick | Excelle | 2005 | 4D | Copy successfully |
| Buick | Excelle | 2012 | 48 | Generate successfully |
| Maxus | G10 | | 46 | Copy successfully |
| MG | MG3 | | 46 | Copy successfully |
| Honda | FIT | | 46 | Copy successfully |
| Honda | CR-V | | 46 | Copy successfully |
| Peugeot | 2008 | | 46 | Copy successfully |
| Peugeot | 3008 | | 46 | Copy successfully |
| Buick | GL8 | | 13 | Copy successfully |
| Buick | Excelle GT | | 46 | Copy successfully |
| Buick | Eecore | | 46 | Copy successfully |
| Ford | Focus | | DST40 | Copy successfully |
| FAW | Pentium | | 4D | Copy successfully |
| Mazda | Mazda6 | | 4D | Copy successfully |
| Nissan | Qashqai | | 46 | Copy successfully |
| Citroen | C-QUATRE | | 46 | Copy successfully |
| Great Wall | C50 | | 46 | Copy successfully |
| Suzuki | SX4 | | 46 | Copy successfully |
| Hyundai | VERNA | 2014 | 46 | Copy successfully |
| Hyundai | Elantra | 2014 | 46 | Copy successfully |
| Chevrolet | Aveo | 2014 | 46 | Copy successfully |
| Chevrolet | Cruze | 2015 | 46 | Copy successfully |
| Chevrolet | Captiva | 2014 | 46 | Copy successfully |
| Landrover | VOGUE | | 46 | Copy successfully |
| Mitsubishi | | | 46 | Copy successfully |
| Luxgen | 7 | | 46 | Copy successfully |
| Trumpchi | | | 46 | Copy successfully |
| Ford | | | 4D-60 | Copy successfully |
| Peugeot | | | 46 | Copy successfully |
| Chevrolet | | | 46 | Copy successfully |
| Suzuki | | | 46 | Copy successfully |
| ROEWE | 350 | | 46 | Copy successfully |
| Buick | Enclave | | 46 | Copy successfully |
| FAW | PentiumB70 | | 4D-60 | Copy successfully |
| Geely | EMGRAND | | 46 | Copy successfully |
| HAWTAI | 圣达菲 | | 46 | Copy successfully |
| Great Wall | C30 | | 46 | Copy successfully |
| Honda | Crosstour | | 46 | Copy successfully |
| BYD | | | 46 | Copy successfully |
| KIA | K2 | | 46 | Copy successfully |
| Zhonghua | 骏捷 | 2011 | 46 | Copy successfully |
| Volkswagen | Jetta | 2010 | 48 | Copy successfully |
| Nissan | LIVINA | 2009 | 46 | Copy successfully |
| FAW | Vizi | 2009 | 4C | Copy successfully |
| Ford | Focus | 2010 | 4D | Copy successfully |
| Ford | Focus | 2012 | 4D | Copy successfully |
| Chery | Riich | 2010 | 46 | Copy successfully |
| Ha/ma | S7 | | 46 | Copy successfully |
| FAW | Pentium B50 | | 4D | Copy successfully |
| Peugeot | 308S | 2015 | 46 | Copy successfully |
| Chery | Fulwin | | 46 | Copy successfully |
| Luxgen | U6 | 2015 | 46 | Copy successfully |
| Peugeot | 408 | 2014 | 46 | Copy successfully |
| Hyundai | | 2007 | 46 | Copy successfully |