Question: What is the difference between the auto pro pad and the x100 pad 2 pro? Do they both do all the same functions?
First let's check the table comparison:
Item
Xtool X100 PAD2 (Pro Full)
Xtool AutoProPad (Full)
Image

Brand
Xtool Tech (Universal)
XToolUSA
OS
Android 4.4.4
Android
Processor
Quad Core, 1.6 GHz
Quad-Core 1.60 GHz
Memory
2GB RAM, 32GB Flash
1GB RAM, 8GB Flash
Screen Display
8.0 Inch IPS 5-Point Multi-touch Screen with 1024×600P Resolution
8.0″ Touchscreen
Camera
5.0MP Rear-Facing w/ Flashlight
Battery
4000mAh, 7.4V
4000 mAh, 7.4V Lithium-Polymer Battery
WiFi
WIFI 2.4Ghz
Yes
Dimension
(L*W*H): 240*177*30mm
9.45″W x 6.97″H x 1.18″D
OtherConfiguration
Basic versionPro full version
Basic versionLite version

Full version

Update
Free Update for 2 years
Free Update for 1 year
Update subscription
$400 per year
$600 per year
Language
English, Spanish, French, Turkish, Indonesian, Thai, Portuguese
English
Main functions
IMMO Transponder & Remote Programming
Transponder & Remote Programming
Special functions
4-system OBDII diagnosis, Oil service reset, Odometer correction, TPMS reset, TPS, battery reset, DPF, EPB, Steering Angle Calibration
Automotive Diagnostic Functions: reading & clearing fault codes. Also includes a plethora of other diagnostic capabilities (fully functioning OBD2 diagnostic tool for auto shops).
VAG 4th & 5th IMMO
Yes, require KC100 adapter (default in full package)
Yes, require KC100 Key Tag Tool
EEPROM adapter
Yes
Yes
Tokens
No
No
Competitors
OBDSTAR X300 DP Plus, Lonsdor K518ISE etc
SMART Pro, MVP Pro, TCode Pro
For sale price
Basic version: $649Pro version:$828
Lite version: $999.99Full version: $1,995
Car List
Xtool x100 pad2 car list
Autopropad car list
Most parts are same,both from XTOOL technology. Auto pro pad focus on American vehicles. x100 pad2 pro focus on more models (EU) and it specialized in VW 4th 5th vehicles key Immobilizer.
Xtool AutoProPad is made for US market and requires updates but updates are free for first year. No Chrysler pin codes tho (except for fobik).
Xtool X100 Pad2 Pro is for other countries market and comes with 2 options. Basic or full for VW AUDI stuff too. No tech support but does all Nissans to current with ease. And not very good for older stuff old fords old Honda's etc. also does GM no prob including prox and remotes. It's a good device for the price.  No Chrysler pin codes except for fobik.
Is the autopropad the same as other xtool devices?
This is different than other XTool machines you may see on sale in other countries. The AutoProPAD is the only XTool machine made for locksmiths in the US market and includes extra OBD2 and EEPROM software specific to United States vehicles. The cheaper devices such as the PS80, PS90, X100PAD, or X100 have some of the same hardware but mainly performs only the advanced vehicle diagnostic functions that an auto shop might use. For instance, if you purchase a PS80 (instead of an AutoProPAD), you will not be able to program Nissans with 20-digit BCM, Ford Fusion without NASTF, Toyota G, Toyota H, Toyota Smart Keys, Chrysler 200 systems, most Chrysler PIN code reads, VW/Audi programming, Honda Prox, and many others.
What is the Difference Between the AutoProPAD and the AutoProPAD LITE?
The AutoProPad is currently available in three versions; the "Basic Version," the "Lite-Version" and the "Full-Version."  All three tools use the same basic machine and software.  The differences between the versions are the accessories and optional components that are included.
The LITE is more for OBD2 programming only and does not have the extra adapters needed for things like EEPROM (reflashing) and transponder chip pre-coding. It is lighter and more compact (7″ screen instead of 8″ screen) than it's bigger brother, but both are the same speed, the same memory, and program the same vehicles. The only exception to that is that some vehicles (newer BMWs and VWs, specifically) require the pre-coding adapter, which is not provided with the AutoProPAD LITE.
What's the difference between xtool x100 pad 2 basic and full (pro) version?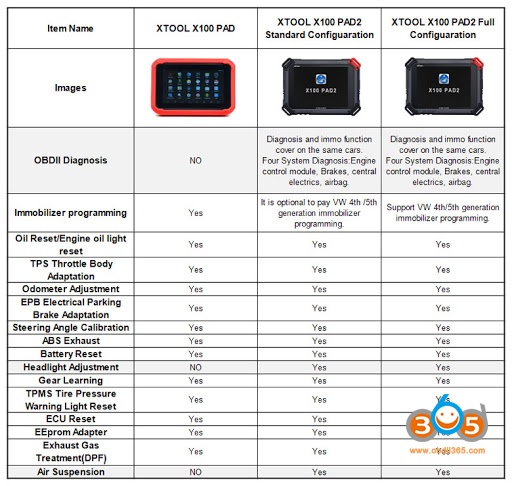 AutoProPAD Current & New Stand-Out Features:
Chrysler / Jeep / Fiat new system PIN reading & programming
Chrysler CAN PIN reading & programming
Ford 128-Bit add-a-key & all-keys-lost programming
Ford Fusion 2013+ system rolling code bypass (no NASTF needed)
Ford 10-Minute bypass on all-keys-lost for all Ford systems: Bypass the normal 10-minute wait.
Ford parameter reset
Ford/Lincoln/Mercury keyless entry keypad code read
GM PIN code reading
GM Remote Programming
Honda 2017 proximity system programming
Honda transponder programming: Super-quick!
Hyundai & Kia old PIN codes: converts VIN to PIN for 2007 and older
Hyundai & Kia new PIN code read: No more buying PINs from the dealer (smart keys)
Nissan BCM to PIN conversion: Supports the 5-digit and 20-digit BCMs
Subaru G-Key (80-Bit) add-a-key & all-keys-lost programming
Toyota H-Chip programming w/ no 16-minute wait
Toyota G-Chip programming w/ no 16-minute wait
Toyota/Lexus proximity system 6 & 7 programming all-keys-lost & add-a-key (ie. 2017 Toyota CH-R & Prius Prime)
VW/Audi 2013-2016 programming for add-a-key
VW Touareg 2005
Chrysler Pacifica 2016+
Volvo key programming (2008-2015 select models/non-prox)
Maserati key programming (2015-2017 Quattro Forte & Ghibli)

AutoPro PAD New Features Releasing Soon:

Audi/VW 2013-2016 programming for all-keys-lost (coming Q1 2019)
Chrysler Type2 PIN read via OBD2 (coming Q4 2018)
Hyundai & Kia new PIN code read: (slot keys) (coming Q1 2019)
Subaru 2017 MSOP EEPROM in-circuit programming w/ adapter (coming 2019)
Transponder motorcycle programming (coming 2019)
Fiat 500/Dodge Promaster/Promaster City key programming (coming Q4 2018)
Full PIN read for all 2017-2018 GMC vehicles (coming Q4 2018)

http://blog.obdii365.com/2020/05/06/xtool-autopropad-vs-xtool-x100-pad2/