Code cannibal and obdstar x300 dp plus (key master dp plus) is based on same system but still have a few differences thou.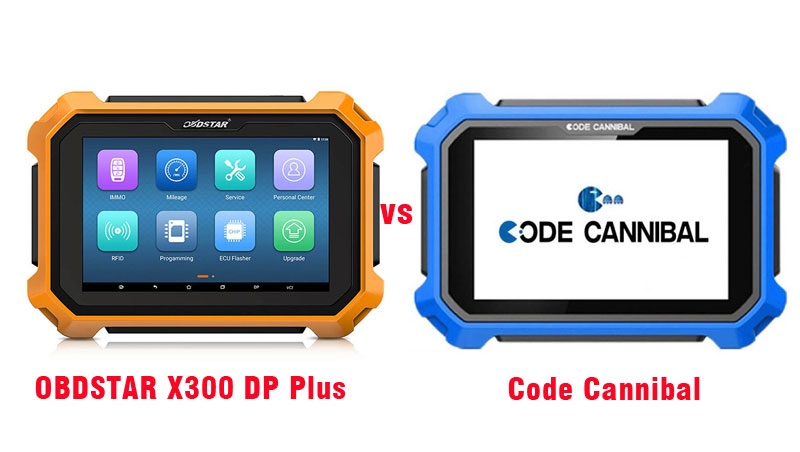 Similarities:
based on same system
They are the first tools to do GM 2021 and ford 2021 when they came out.
both can do 2021 chevy trucks with the new GM CAN FD adapter.
The ford bypass cable is much better then the way autel has you do it.
Differences:
Code cannibal is based off of the C configuration of keymaster dp plus/x300 dp plus
Code cannibal comes with the bypass cables. OBDSTAR needs to be purchased separately.
Code cannibal can't do motorcycle or powerboat immo, but obdstar can. All you do is buy the moto immo adapter set.
The funny thing is the obdstar that I have the renewal cost $500 and the Code cannibal renewal $700.
so your money ahead getting the obdstar. and u can always upgrade configuration A to C for $465, and then you have full diagnostic and gm bcm cloning and alot of other stuff like motorcycle immo. can't add any of that with code cannibal.
How to buy OBDSTAR at the lowest cost?
1) OBDSTAR X300 DP Plus full configuration $1,599 + another $400 to get all the akl cables and motorcycle and powerboat immo adapters and license, so for 2k its fully loaded.
2) Buy obdstar x300 dp plus/key master dp plus A  configuration, update to C configuration, and then get full activation and then another $400 to get all the akl cables and motorcycle adapters and license. obdii365.com provides the bundle kit less then 2k its fully loaded.
OBDSTAR Motor Immo kit which package to buy?
You get the motorcycle activated with the moto immo adapter set. There are 2 different kits, the $400 one (configuration 1) has Ford and Toyota AKL and Toyota CAN cables.  As well as the motorcycle powerboat adapters and it comes with the motorcycle powerboat activation free.  The $230 one (configuration 2) only comes with motorcycle adapters and license. The $400 one is recommended.