Original OBDSTAR F100 F-100 Ford and Mazda key programmer has been rolled out in obdii365.com. OBDSTAR  F-100 hand-held OBD2 key programmer supports programming auto keys and smart keys for Mazda/Ford.
Tops feature of OBDSTAR F100:
1.Support both Ford/Mazda key programming (all key lost) and display data stream(check detail list below).
2.No pin code required.All operations completed are required without password needed.
3.Support the latest version of Mazda CX-3,CX-5,Mazda 2/3/6 and no need Pin code anymore.
4. Support part of Ford/Mazda/Jaguar/Land rover odometer correction (check list below).
5.Original OBDSTAR product,update online
OBDSTAR  F-100 Mazda/Ford Auto Key Programmer 
Comparison: 1. Similar products abroad are offered 6200.00USD/unit, but ours are offered at 160USD/unit, 1/40 price 2. Similar products abroad only apply to support immobilizer of Mazda and Ford,but our device support odometer adjustment as well except above. 3. User experience is undesirable to similar products abroad because of no display and no guide for operation,but for ours, they are welcomed by perfect display and interaction.
Hardware Parameter:
Size: Length*Width*Height=115*73*21mm CPU: ARM7 Operating Voltage: DC12V~18V Operating Temperature: -20-60℃ Display Screen: DOTS 128X64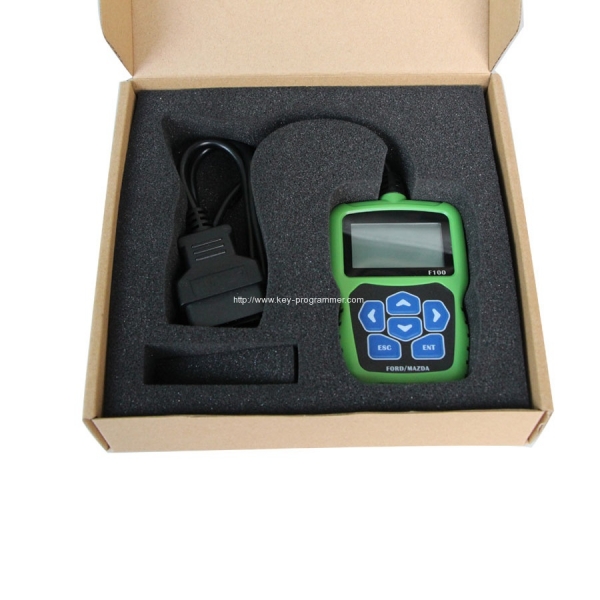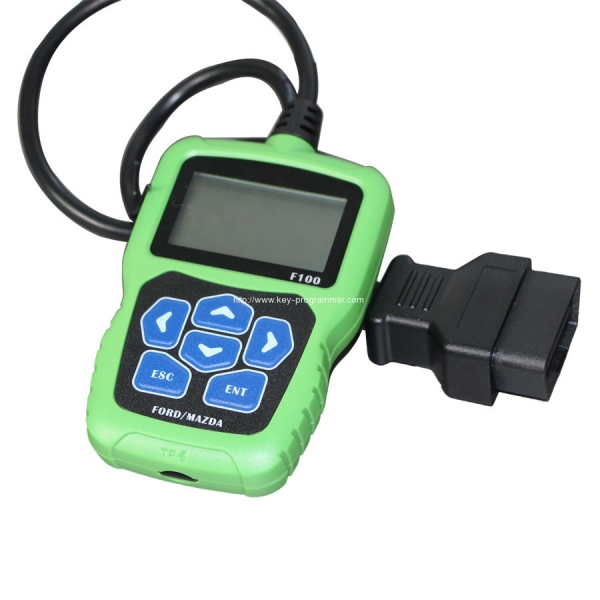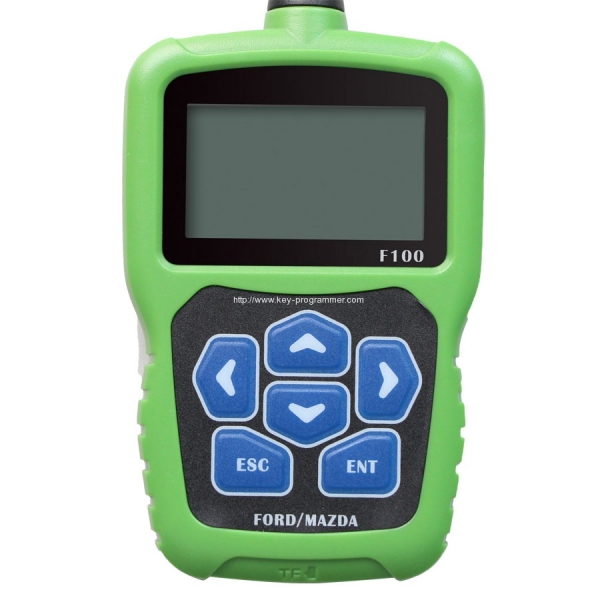 OBDSTAR F100 Immobilizer Car List:
MAZDA           B Series           2007-             Key number             Program keys             All keys lost       BT50            2012 –             Program keys             Erase keys             All keys lost Mazda 2           Type 1                 With smart               Program keys               Erase keys               Program remote               Erase remote               Key number               Switch ignition on           Without smart                 Key number                 Program keys                 All keys lost           Type2(2014-)           With smart               All smart keys lost               Add smart key                 Switch ignition on Mazda 3          Type 1            Key number            Program keys            All keys lost          Type 2            Key number            Program keys            All keys lost          Type 3(Axela)(2013-)               With smart              All smart keys lost               Add smart key                Switch ignition on Mazda 5          Type 1            Key number            Program keys            All keys lost          Type 2            Key number            Program keys            All keys lost Mazda 6          Type 1              With smart             Live data               Program keys               All keys lost               Program smart keys               Erase smart key           Without smart               Program keys               All keys lost               A spare key setting valid               A spare key setting invalid           Type 2(New Mazda 6)               With smart                 All keys lost                 All smart keys lost                 Program smart keys               Without smart                 All keys lost            Type 3(Atenza)(2013-)                With smart               All smart keys lost               Add smart key                 Switch ignition on Mazda 8              With smart              All keys lost              All smart keys lost              Program smart keys              Program keys            Without smart                Program keys                All keys lost                A spare key setting valid                 A spare key setting invalid Mazda CX-3               With smart               All smart keys lost               Add smart key                Switch ignition on Mazda CX-5               With smart               All smart keys lost               Add smart key                 Switch ignition on Mazda CX-7             With smart               All keys lost               All smart keys lost               Program smart keys               Program keys             Without smart                   Program keys                   All keys lost                   A spare key setting valid                   A spare key setting invalid Mazda CX-9                With smart                 Live data                 Program keys                 All keys lost                 Program remote                 Erase remote              Without smart                 2004 – 2009                          Key number                          Program keys                          All keys lost                  2009 –                        Key number                        Program keys                        All keys lost Mazda MX-5               2004 – 2009                    Key number                    Program keys                    All keys lost                2009 –                   Key number                    Program keys                    All keys lost FORD China Ford              Immobilizer               Ecosport               Program keys               Erase keys               All keys lost               Focus               Classic focus               Auto search               Manual selection                       Type 1                         All keys lost                         Program keys                         Program immobilizer and engine ECU                       Type 2                         Program keys                         All keys lost New focus                Type 1(2011-)                     Program keys                     Erase keys                Type 2(2014-)                     Program keys                     Erase keys                     All keys lost Escort               Live data               Add Keys               All keys lost Fiesta                -2013                  Program keys                  Erase keys                2013-                  Program keys                  Erase keys                  All keys lost Escape                Program keys                Erase keys                All keys lost Mondeo               Type 1                  Program keys                  Erase keys                  All keys lost               Type 2                  Program keys                  Erase keys                  All keys lost S-Max               Type 1                  Program keys                  Erase keys                  All keys lost               Type 2                  Program keys                  Erase keys                  All keys lost Transit               Live data               Program keys               All keys lost  New Mondeo                Live data                Add Keys                All keys lost Edge                Key Quantity                Erase keys                Program keys       Smart key system  Ecosport                  Program keys                  All keys lost Edge                 -2014                   Erase smart key                   Program smart keys                 2015-                   Live data                   Add Keys                   All keys lost Escape                   Add smart key                   Erase smart key Fiesta                  2012-                     Program keys                     All keys lost                  2015                     Program smart keys                     All smart keys lost  Focus                     Add smart key                     Erase smart key              Mondeo                  Type 1                     All smart keys lost                     Program smart keys                  Type 2                     All smart keys lost                     Program smart keys              New Mondeo                  Live data                  Add Keys                  All keys lost USA Ford         Immobilizer E250                All keys lost                Program keys                Program immobilizer and engine ECU  Edge                Key Quantity                Erase keys                Program keys Expedition                  Type 1                     All keys lost                  Type 2                     Key Quantity                     Erase keys                     Program keys F-150                  Type 1                     All keys lost                  Type 2                     Erase keys                     Program keys F-250                  Type 1                     All keys lost                  Type 2                     Erase keys                     Program keys F-350 SD                  All keys lost Mustang                  2011-2014   Ranger                 Program keys                 Erase keys                 All keys lost        Smart key system Ecosport                   Type 1                     All smart keys lost                     Program smart keys                   Type 2                     All smart keys lost                     Program smart keys Edge           Erase smart key           Program smart keys Explorer 11-               Erase smart key               Program smart keys   F-150 11-               Erase smart key               Program smart keys                F-250 11-               Erase smart key               Program smart keys Flex 13-               Erase smart key               Program smart keys Mustang               2015-                  Live data                  Add Keys                  All keys lost Taurus 10-               Erase smart key               Program smart keys    LINCOLN        Smart key system MKC            2014-               Live data               Add Keys               All keys lost MKS            Erase smart key            Program smart keys MKX            Erase smart key            Program smart keys  MKT            Erase smart key            Program smart keys   Immobilizer MKX 07-            All keys lost            MKZ 07-09            All keys lost Mark LT             05-07               All keys lost             08-09               All keys lost Navigator             05-06               All keys lost             07-08               All keys lost             09-               All keys lost Town car 05-10               All keys lost Zephyr 07-                All keys lost    Remote  Navigator            Add remote            Erase remote
OBDSTAR F-100 Odometer Adjustment/Correction list:
Mazda         Auto identify         Manual Selection                  M6(Atenza)                  M3(Axela)                  CX5                  CX7                 2010-                  CX9                  M2                  M3                  M5                  M6                 2005-2009                 2009-2013                 2014- The top of the form          Ford           C-MAX             2012           Ecosport               type 1               type 2           Edge           2015-(Big color meter)           Expedition                 2007-2010                     Mileage adjustment           Explorer              2007-2010                  Mileage adjustment           Focus            2013-            2009-(Multifunctional screen)            -2008(Smaller screens)           Fiesta            2013-             type 1             type 2            -2012           Kuga            2012            2010            2012-             Color meter             Monochrome meter           Mondeo             11-13             1 pointer color meter             2 pointer color meter             07-10             4 pointer color meter           Navigator                2007-2010                    Mileage adjustment           New Mondeo                 Big color meter                 Small color meter                 Color meter           S-MAX             2007-2010           Taurus
            2015-(Big color meter)
LandRover      Discovery          Mileage adjustment         Evoque2011-          Data backup          Mileage adjustment          Data recovery          Freelander2 2013          Data backup          Mileage adjustment          Data recovery      Range rover      2010-      Mileage adjustment      Sprort 2014      Data backup      Mileage adjustment      Data recovery Jaguar    F Series      Data backup      Mileage adjustment      Data recovery    XE Series      2015-      Data backup      Mileage adjustment      Data recovery   XJ Series      2010      Mileage adjustment Following is an Introduction of similar products abroad: Key Learning device for Ford/Mazda is intended to learn mechanical or proximity keys into Ford and Mazda vehicles. List of supported models: Mazda CX-3 ( 2015+ )( smart PCF7953 ID46 ) Mazda CX-5 ( 2012+ )( smart PCF7953 ID46 ) Mazda 2 ( 2014+ )( smart PCF7953 ID46 ) Mazda 3 ( 2013+ )( smart PCF7953 ID46 ) Mazda 6 ( 2013+ )( smart PCF7953 ID46 ) Mazda 2 ( 2002 – 2013)( 4D ID63 ) Mazda 3 ( 2002 – 2012 )( 4D ID63 ) Mazda 5 ( 2002 – 2012 )( 4D ID63 ) Mazda 6 ( 2014 – 2012 )( 4D ID63 ) Focus3/CMax 2010+ – mechanical ( DST80+ ) Focus3/CMax 2010+ – proximity ( DST80+ ) Kuga2 2014+ – mechanical ( DST80+ ) Kuga2 2014+ – proximity ( DST80+ ) MondeoMK4/SMax facelift 2010+ – mechanical ( DST80+ ) MondeoMK4/SMax facelift 2010+ – proximity ( DST80+ ) Fiesta 2014+ – ONLY mechanical ( DST80+ ) BMax+ – ONLY mechanical ( DST80+ ) Custom – ONLY mechanical ( DST80+ ) ( not fully supported ) NON-supported ( soon, look for news ): Fiesta 2014+ – proximity Bmax – proximity Ecosport – proximity
Video Column:
OBDStar F100 Auto Key Programmer Program key for Mazda 6 2013
OBDSTAR F100 Key Programmer program new key for CX5
OBDSTAR F-100 Odometer Adjustment for New Mazda 6
OBDSTAR F100 do Odometer Adjustment for CX5