OBDSTAR company has newly released a OBD key programmer for Chrysler, Jeep and Dodge-OBDSTAR F104. F104 key programmer supports pin code reading and odometer correction function via OBD as well.
Language: English only
Update: Software FREE upgrade online within one year. Update via TF card at any time.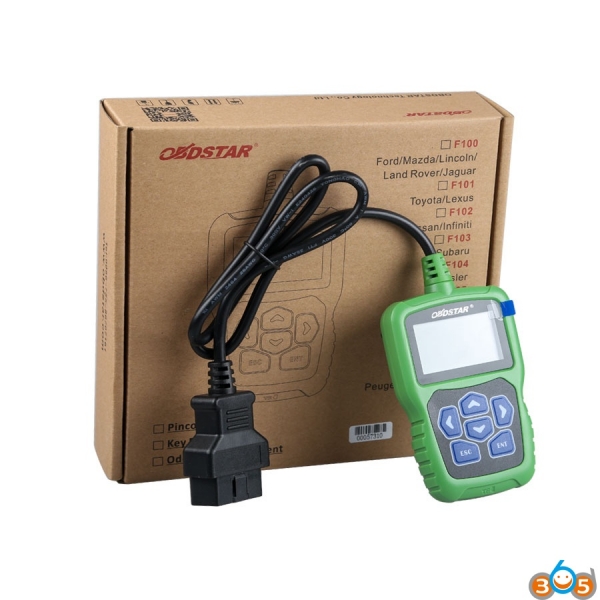 OBDSTAR F104 Key Programmer Function/Features:
1. Support  pin code reading
2. Program keys for most of Chrysler.
3. Correct odometer/mileage adjustment.
4. No need to connect with computer, plug and play, automatic transfer.
5. No need to buy tokens.
6. One Key Upgrade
9. Have good man-machine interaction.
OBDSTAR F104 Chrysler Key Programmer IMMO Car List:
(Due to the immo list is too long, please check the attached immo cat list pdf)
OBDSTAR F104 Chrysler Odometer Correction car List:
CHRYSLER
1500
2002-2005
2000-2001
200
2015
2010-
2500
2003-2005
300C
2011-
-2010
300M
2001-2004
1998-2000
3500
2003-2005
Aspen
2006-
Avenger
2010-
2007-2009
Caliber
2009-
2006-2008
Caravan
2012-
2011
2008-2010
2001-2007
Charger
2011-
2004-
Cherokee
2015
Commander
2005-
Compass
2008-
2005-2007
Concord
2001-2004
1998-2000
Dakota
2004-
2001-2003
Durango
2014-
2011-
2007-2010
2004-2006
2001-2003
Grand Cherokee
2014-
2011-
2005-2010
2002-2004
Interepid
2001-2004
1998-2000
Journey
2008-
LHS
2001-2004
1998-2000
Liberty
2008-
2002-2007
Magnum
2004-
Neon
2001-
1999-2001
New Sebring
2007-
2001-2006
Nitro
2006-
Pacifica
2007-
2003-2006
Patriot
2006-
PT Cruiser
2006-
2002-2005
1999-2001
RAM
2011-
2009-
2006-2008
Sebring
2010-
2007-2009
2001-2006
SRI
SRI-5 2005-
SRI-4 2005-
SRI-3 2005-
SX
SX-2.0 2001-
TJ/YJ/CJ
2007
2003-2005
Voyager
2015-
2008
2001-2007
Wrangler
2007-
2003-2005
OBDSTAR F104 Chrysler Jeep Dodge Key Programmer IMMO and Odometer Car List