Xtool tech released 2015 onwards new Ford proximity all keys lost with active alarm function as well.
Tools you need:
Xtool key programming tablets (X100 PAD3/X100 PAD Elite)
Ford AKL alarm bypass cable
WiFi connection
How to Connect:
1.Connect the main cable to the female obd2 socket of the Ford cable, and connect the tablet or VCI box to the other side of the main cable.2. Connect the male OBD2 socket of the Ford cable to the OBD port of the vehicle
3. Take the battery clip off from the car's battery and connect the 2 battery clips to the battery
4 There is also a battery clip (read cable with 'Battery Clip+' tag on it) on the cable. Connect it to the positive battery clip on the car.
How it work?
Ford AKL Alarm Bypass Cable can:
Allows you to perform Ford smart key all keys lost via Xtool devices with a VCI Box
(H6 Pro, A80 Pro, X100 MAX etc)
Optimize the process on Ford smart key all keys lost via Xtool devices without a VCI box
(X100 PAD2, X100 PAD3, H6 Elite, D7/D8 etc)
Controls vehicle battery on/off with a switch on your hand and save your time from the repeating battery reconnecting process.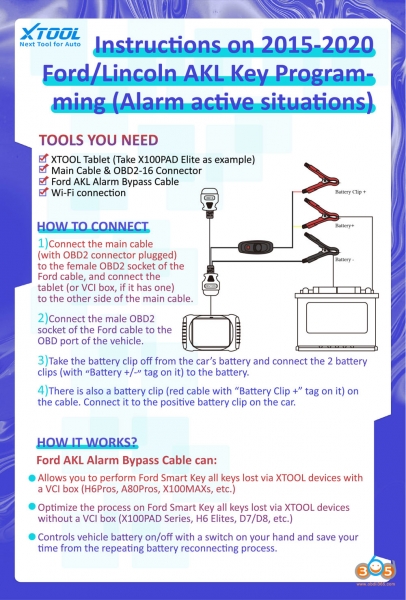 Programming Process:
Take a 2018 Ford Edge with an active alarm as an example and read its EEPROM data without any keys available
1. Make sure the cable is connected properly, the select
Ford V27.30 or higher- North American Ford- Smart key system- Edge- 2016-2020
2. Select All keys lost. Choose the menu depending by the status of the vehicle. Considering the alarm is on now, here we select 'Alarm activation'
3. Open the door on the driver's side. Use a screwdriver to jam the door latch on the locked position but keep it opening.
The door should keep open but locked until the entire process is done. When it is done, click OK to continue,
4. Select Reading EEPROM first
5. If the cable is connected, switch off the battery
6. The device will try read the EEPROM by communicating with the ECYU.
Switch on the battery and check if the alarm still goes on.
7. If the alarm still goes on, switch off the battery and wait for 10 seconds, then try switch off and on again
8. If the alarm is off, disconnect the cable to the battery, connect it back to battery clip of the car, tighten it, and close the hood, click OK to continue.
9. Reading EEPROM data. The process will take 10 minutes
10. WHen EEPROM reading is done. it will generate a bin file, Save file on Internal Storage folder.
*If you are using a device without VCI but not using the cable, you must remove/install the battery clip every time the device noted you to disconnect/reconnect to the battery.