JMD Handy Baby 4D/46/48 chip copy auto key programmer update to the newest version 8.0.0. Download Handy Baby software here and update it.
Handy baby key programmer V8.0.0 download
Handy baby key programmer 8.0.0: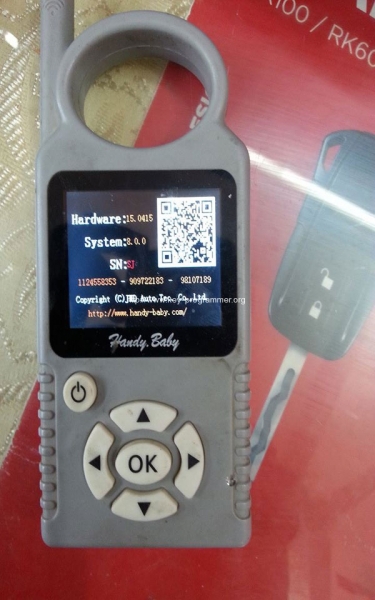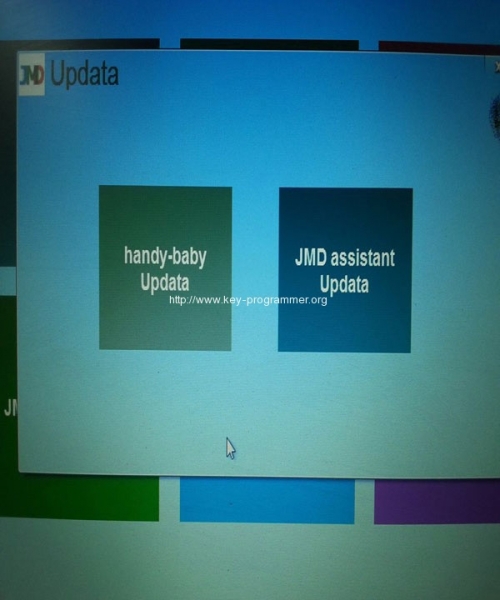 Update tutorial:
JMD Handy baby V8.0 Update Feature:
-Able to simulate 46 chip
-Able to identify 47(hitag3) blank chip, stand-alone password mode to read and write
-Able to identify Honda 47 (hitag3) A/G chip key
-Able to identify more chip type like (hitag AES,hitag PRO,etc)
-Able to generate Suzuki Changhe Beidou special 46 chip (support original 46 chip)
-Able to generate Honda for 47 (hitag3)
-Able to copy VW Immo 4th 48 chips
How to copy VW 4th ID48 chip via JMD Handy baby?
JMD Assistant is an OBD model to help Handy Baby to read out data from Volkswagen cars, and it needs your Handy Baby upgrade to at least version 8.0.0. JMD Assistant reads data from Volkswagen cars only and won't write any data to cars, even in all key lost , so it won't be locked when the car connect to the server in 4S. Handy Baby reads data from JMD Assistant with RF, and it no need any cables or computer during your work.
VAG 48 New  key clone (Have a original key)
Step 1 : Insert the original key turn on
Step 2 : Insert JMD Assistant to OBD port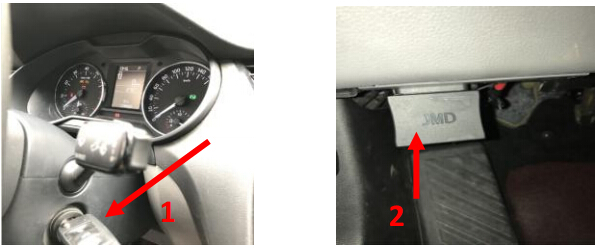 * If dashboard happen spangled or re-light (don't worry that phenomenon is ok)
*Finish could listen beeper short "BiBiBi" by OBD that's was OK could next step
*Finish could listen beeper long "Biiiiiii" by OBD that's can't clone so far. (upgrade continue)
Step 3: Choose "ore-fun"
Step 4: VOLKSWAGEN

Step 5: JMD Assistant on coil
Step 6: OK TO READ

Step 7: Read Success
Step 8: Insert original key push OK

Step 9: Read Success
Step 10: Copy by JMD48 chip push OK

Step 11: Copy more?
Step 12: New JMD48 chip push OK

VAG New 48 key clone (When all key lost):
Then same above Step1 to Step5 ….. continue Step6
Step 6: Assistant read push OK
Step 7: Copy by JMD48 chip

Step 8: Copy by JMD48 chip push OK
Step 9: Copy by JMD48 chip push OK

Attation: If fail in reading, make sure you have follow the steps above and check the car is supported(see the list), or contact us.
How could update JMD Assistant to new version
JMD Assistant connect to computer with USB cable, and open JMD Client software, click "UPDATES" –"JMD Assistant update", then wait it until finish update.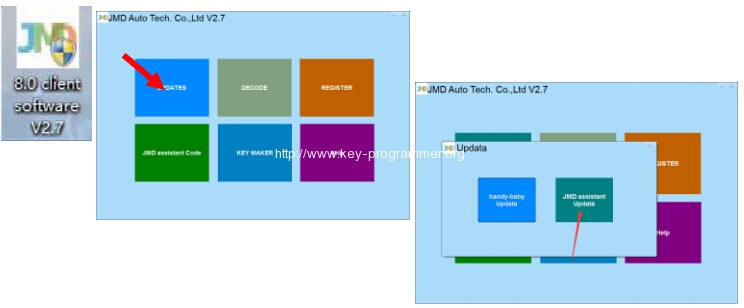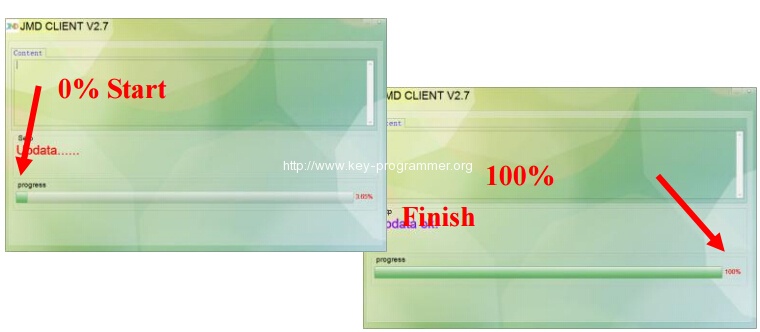 Note: Make sure your computer have install Cp2102 driver and link to internet, and you should turn off Anti-virus and defender during update.
Information about JMD Assitant
JMD Assistant Handy Baby key copy machine's coil , and get into" basic-info" menu, wait several seconds and press OK to read, it will show information of JMD Assistant.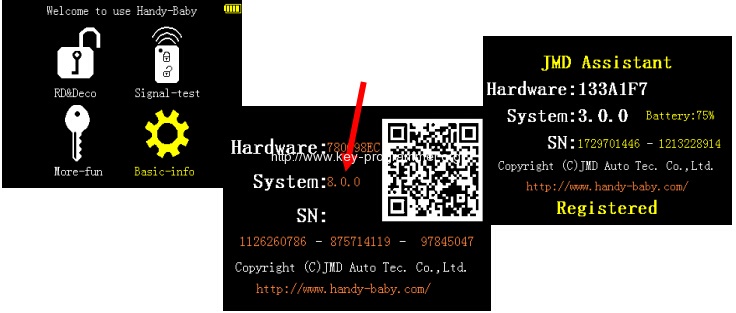 Charge/Power Supply
Please charge with 5V/1A,you can charge with computer or with power supply unit of smart phone. During charge , LED shows read, and shows blue in full charging.
Support list (Clone only)
More cars will be add in the future version, please put eyes on the latest news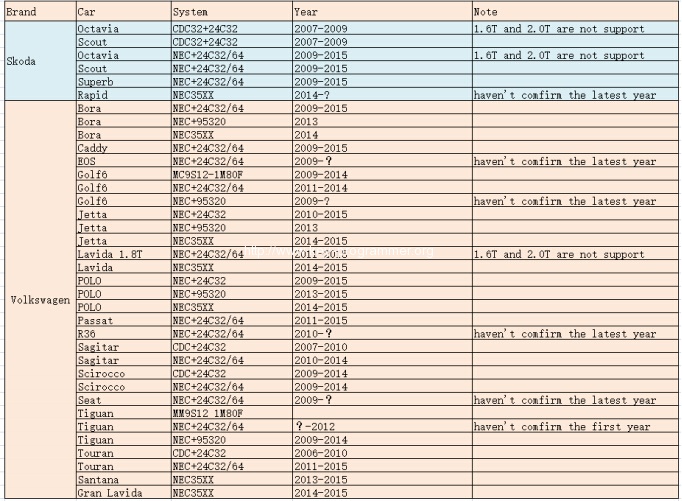 Note: some cars are not support in the next half year of 2015 in the list, and blade shape remote key are not support too.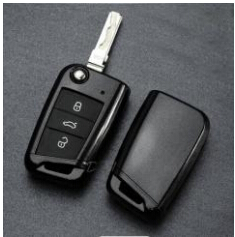 Blade shape remote key
Support list (all key lost)
More cars will be add in the future version, please put eyes on the latest news.

Q&A
Q:The dashboard off and can not light up again.
A: For the wrong operations and other reasons, the dashboard can't light up again, please pull out JMD Assistant and insert key and twist to II again, or cut off the battery and link back again.
Q:Illegal key to start and cause the car enter safe state
A:Insert a legal key and turn on , and wait until the car get out safe state
Q:The car can not start with legal key
A:The battery is in low power
Q:After operate with JMD Assistant, there are fault codes
A:You can erase fault codes with OBD diagnosis device, if can't , drive the car for a distance , it will be erased
Q:There is a wrong sound from JMD Assistant after reading
A:Check the car if support or not, and make sure your JMD Assistant in the latest version, if so, try again. For fail again, contact us and send us the codes, car model, years.
Declaration:
1. Do read the instructions carefully before using the JMD OBD
2. The product use to clone keys legally only, if use in illegal actions, user take full responsibility
3. All the pictures provide in the instructions might not be same as the product, it is used for demonstrating only.
4. Once sold, no returns are allowed except the quality problem
5. We do our best to make all the content in the instructions right, and we will be greatly appreciated if you find out any mistake and tell us.